Transportation
BY AIR
The Henry B. Gonzalez Convention Center is located approximately 8 miles from the San Antonio International Airport. Visit the website at http://www.sanantonio.gov/SAT for more information.
GROUND TRANSPORTATION
San Antonio Airport offers ground transportation options for all types of passengers. Ground transportation is located curbside in front of Terminal A and B baggage claim area. Uniformed transportation agents (wearing red shirts) can describe services and provide estimated rates to various destinations.
BY TAXI
Taxi cabs are available at the lower level curbside, outside of baggage claim, at Terminal A & B. Fare to San Antonio downtown areas start at $29 (U.S.) per taxicab. (Up to 6 may share a cab, if both luggage and passengers fit safely). Visit
here
for a list of fare rates and taxi companies.
BY CAR
Get on US-281 S from E Terminal Dr and Dee Howard Way. Continue on US-281 S to E Commerce St. Take exit 141A from I-37 S. Continue on E Commerce St. Drive to Bowie St. The Convention Center is located at 900 E Market St.
There are several car rental facilities available through the San Antonio International Airport. Visit
here
for a full list of companies.
RIDE SHARE
The designated pick-up area for approved rideshare service companies such as Uber and Lyft, is at the curbside lower level Terminal B.
BY SHUTTLE
SuperShuttle is available through the San Antonio International Airport. The counter at SAT is open from 8am until midnight. SuperShuttle cost from SAT to Downtown is $15.00 one way and $28.00 round trip.
Visit www.supershuttle.com for more information.
Hotel shuttles are located outside the baggage claim area. Please contact your hotel in advance to confirm if they office courtesy shuttle service. Visit
here
for a list of hotel courtesy shuttles.
BY PUBLIC TRANSPORTATION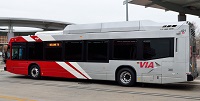 VIA Metropolitan Transit is San Antonio's public transportation agency.
To get downtown from the airport:
Go to the Lower Roadway (Arrivals/Baggage Level in Terminal A and B), across the marked crosswalk to the outer curb.
VIA's stop will be located on the far West end of Terminal B, clearly marked.
You will catch VIA bus route 5, which operates everyday, and can get to beautiful downtown San Antonio in about 30 minutes for only $1.30.
A day pass for $2.75 can also be purchased online for unlimited rides on all regular bus and streetcar service for one day.
To visit popular attractions in Downtown San Antonio:
VIVA, VIA's new service line takes you to popular attractions and landmarks in the heart of San Antonio, including landmarks, museums, shopping and entertainment.
Find out more about San Antonio's public transportation, including schedules and maps, at
www.viainfo.net
.
PARKING AT THE CONVENTION CENTER
There are a variety of parking facilities are available by the Convention Center:
1. Grand Hyatt Parking Garage (600 E. Market)
Rate: $10.00 first hour with $5 each additional hour up to $29 maximum per day.
2. Convention Center Garage (850 E. Commerce)
Daily flat rate: $10.00
Event flat rate: $11.00
3. Convention Center South Parking ( 637 S. Tower of the Americas Way,
Corner of TOA Way and Montana Street )
Weekday Rates: Mon - Thursday $3 per hour Max @ $30
Weekends Rates: Fri – Sun. $5 per hour Max @ $30