Special Events
We hope you will take advantage of some of these special events going on at AMP this year! Click on the event below to automatically scroll down for details. More information will be added as events are programmed. Note - some events, including the AMP 2018 Social Event and MPOC, require registration in advance.
Tuesday, October 30
Location: Grand Hyatt, Travis AB, 3rd Level (600 E Market St, San Antonio, TX 78205)
AMP will be hosting a forum to discuss genetic testing reference materials availability and needs (for test validation, quality control, and proficiency testing). Speakers will present a variety of current reference material development projects for molecular testing of inherited and acquired somatic genetic disorders followed by group discussion.
If you would like to attend the AMP Reference Material Forum, please register by going to this link: www.surveymonkey.com/r/2018AMPRMForum
Pre-registration is encouraged as space is limited, but walk-ins may be accepted if space allows.
Corporate Workshop Day
Wednesday, October 31, 8:00am - 5:00pm
AMP Corporate Workshop Day presents an opportunity for all AMP meeting attendees and the public at-large to learn from industry representatives about the latest scientific advances and equipment. This event is free and open to all. Take advantage of over seventy workshops hosted 8:00am - 5:00pm. Please note that Corporate Workshops are commercial activities. View the full disclaimer.
Molecular Pathology Outreach Course
(Separate Registration Required)
AMPlicons: A Practical Molecular Toolkit and Case Studies
Wednesday, October 31, 8:30am - 3:45pm
This course is designed for pathologists, residents, laboratory directors and technologists who have some prior exposure to molecular diagnostic testing. The course features introductory information about the state of the science as well as a series of case studies illustrating some of the most current principles and practices in the field of Molecular Pathology. Attendees from all career levels will benefit from this staple offering.
AMP Trainee Networking Hour
Wednesday, October 31, 7:00pm - 8:00pm
Location: Margaritaville San Antonio, 849 E Commerce St, San Antonio, TX 78205
All AMP Trainees are invited to the AMP Trainee Networking Hour! This is your chance to connect with other AMP trainees over great food and drinks at a local San Antonio bar. All registered trainees are welcome and will receive a ticket that they may use at the bar in exchange for a free drink! Your drink ticket will be included on your badge sheet when you check-in for the Annual Meeting & Expo.
AMP Central
AMP's "booth" in the Exhibit Hall centrally located between the poster boards! Come and visit the area to...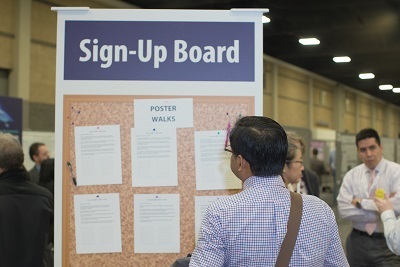 - Participate in networking events
- Learn about opportunities to Get involved with AMP and to submit nominations for open volunteer positions
- Visit our Job Board to see or post new opportunities
- Tweetup during the Welcome Reception
- Explore AMP's educational offerings
… and more! Visit here for the full schedule!
Now in its 3rd year, this crowd favorite returns with a new and creative format. This year's Innovation Spotlight Stages will continue to provide a unique opportunity for exhibiting companies to showcase products or services, but this year the Stages will also feature cutting edge AMP produced content. The TWO Innovation Spotlight Stages are located in the main cross aisle on the right and left corners of the Exhibit Hall. Innovation Spotlight presentations are open to all Meeting Registrants and seating will be on a first come, first served basis. Schedules for this program are available in your meeting bag, on the Mobile App or on signage located outside the seating of each Stage.
Welcome Reception Supported by Qiagen
Thursday, November 1, 5:45pm - 7:00pm
Please join us for the Welcome Reception and help to kick-off another successful Annual Meeting while networking with your friends and colleagues in the Exhibit Hall. This event is open to all registered Meeting Attendees. Be sure to indicate if you plan to attend when you register for the Annual Meeting & Expo.
7:30 PM – 8:30 PM, preceded by dessert & coffee
Henry B. Gonzalez Convention Center, Room 221
Make your way up the escalator from the Welcome Reception to a free 60-minute, live symposium highlighting best practices for testing for and reporting results of NTRK fusions as well as management of patients with TRK TKI therapy. This symposium will feature iPads to deliver interactive content and is sure to provide lively discussion.
This program is supported by an educational grant from Bayer.
Business Meeting and Awards Session
Friday, November 2, 5:15pm - 6:30pm
Stars at Night Ballroom 1&2, Ballroom Level
AMP invites all Meeting Attendees to attend the AMP Business Meeting and Awards Session. Come hear how AMP is working hard to help you advance patient care. A number of awards, including the Young Investigator, Technologist and the Jeffrey A. Kant Leadership Awards will be presented at this session.
AMP 2018 Social Event (Separate Registration Required)
Friday, November 2, 7:00pm - 10:30pm
Marriott Rivercenter, Grand Ballroom, Salon EF
The AMP Social Event is intended to facilitate networking opportunities between trainees, new, and long-standing AMP attendees. There will be mingling, dancing, amateur acts and great food! Attendees who purchased tickets when registering for the meeting will receive their ticket when they check-in at the registration desk for their name badge. If any tickets are still available for sale, they may be purchased at the Registration Desk.
Boo! Halloween in San Antonio
Celebrate Halloween while at the Annual Meeting & Expo! For your convenience, we have provided a list of fun and family friendly Halloween activities taking place in San Antonio. You may visit the direct websites below for more information.
San Antonio Aquarium (6320 Bandera Rd, San Antonio, TX 78238)
Do not forget to pack along your costume! The San Antonio Aquarium offers free admission and trick or treating for those dressed in their favorite Halloween Gear. Visit the website for more information:
www.sanantonioaquarium.net
Arriving early to the Annual Meeting & Expo? See below for more events taking place before the start of the Annual Meeting & Expo:
Fright Fest at Six Flags
Enjoy Halloween at the San Antonio Six Flags from September 14 to October 28. It's a spooky time of year as zombies and ghouls take over the park. Fright Fest offers a wide variety of places to get your scare on including several FREE haunted houses and scare zones located throughout the park. The stuff of nightmares lurk around every corner as the dark of night washes over the park
Visit here for more information: https://www.sixflags.com/fiestatexas/special-events/fright-fest-night
Zoo Boo! At the San Antonio Zoo (3903 North St. Mary's St., San Antonio, TX 78212)
The San Antonio Zoo hosts families for a non-spooky Halloween celebration, Zoo Boo! Fun activities such as a hay maze, trick-or-treat stations, and pumpkin paintings will be held Saturdays and Sundays through October 28th from 9am to 6pm. Children are encouraged to wear their best costume* for a chance to be in a costume contest. Zoo Boo! is included with standard zoo admission and FREE for zoo members.
*Masks may only be worn by guests under the age of 12. Please no scary or inappropriate adult costumes.
Visit here for more information: https://sazoo.org/events/zoo-boo/